Good nutrition is important at every stage of your cancer treatment and recovery.
How can a dietitian help?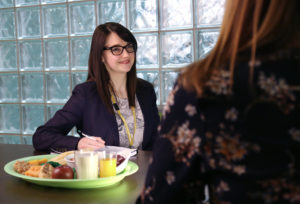 A registered dietitian can give you advice and address any questions or concerns you may have about eating, diet and nutrition health. Dietitians can provide practical nutrition advice and help you manage issues that cancer and cancer treatments can have on your eating and nutrition.
You may benefit from meeting with a dietitian if you:
have questions about your nutrition needs before, during or after treatment.
have unwanted weight loss or weight gain.
are having difficulty with food or fluid intake because of treatment side effects. Examples include taste changes, dry mouth, nausea, diarrhea, constipation, poor appetite, pain, problems chewing or swallowing.
have questions about nutritional supplements or other products to improve your food and fluid intake.
have other health concerns requiring a special diet (e.g. diabetes, high cholesterol, high blood pressure, allergies, etc.).
would like advice on how to improve your strength, well-being and quality of life.
How to contact a dietitian
Patients can be referred by any member of the health-care team, or you can call your local nutrition department to make an appointment.
St. John's: (709) 777-7604