Cancer Patient Navigation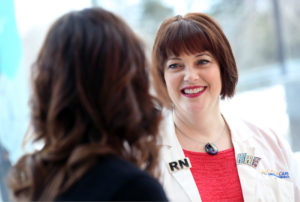 Cancer patient navigators are located across the province. Their job is to support you and your family, and help you access services.
Cancer patient navigation services enable you, and your loved ones, to play a more active role in your care, creating a better experience, and connecting you to the next step in your cancer journey.
To contact a cancer patient navigator, please call:
1 (855) 848-3888 (toll free), or call your local cancer patient navigator:
St. John's: 709-777-2094 or 709-777-2368
Clarenville: 709-466-5763
Central: 709-256-5571
Western: 709-784-5010
St. Anthony: 709-454-3999
Happy Valley-Goose Bay: 709-897-3115
Labrador City: 709-285-8332
"When I was told I had breast cancer, all I could think about were my young children and how they would react to seeing me with no hair. The patient navigator helped me so much with this…helped me emotionally, so that when I finally came for my visit with my doctor I was able to concentrate on the treatment discussion."
– Cancer care patient
What is patient navigation?
Patient navigation is a process by which a person with a suspicious finding or known cancer is guided through and around the cancer care system. Being told you have cancer often brings with it more questions than answers, fear of what is to come and stress for all those involved.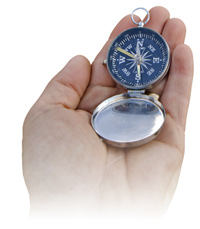 Through the Cancer Care Program of Eastern Health, specially trained oncology (cancer) nurses act as compassionate and effective guides. The patient navigator offers practical help to bridge the gap and assist patients, families and caregivers understand and work through the series of treatments, services and challenges encountered on their cancer journey.
Cancer patient navigators are highly resourceful. They can help problem solve, assist with counseling and coordinate supportive care services through referrals. Navigators are trained to anticipate, address and overcome barriers to care and help with timely access to services.
What Our Patients Say
"I was so happy to have certain things taken care of before I got to the Cancer Centre."
– Cancer care patient

"To say that the navigator was amazing is an understatement. What a wealth of knowledge and such a nice person…super understanding and so professional."
– Cancer care patient
To learn more, please download the following resources:
Other patient navigators
Palliative care nurse navigator
The palliative care nurse navigator is a nurse who has vast knowledge of palliative care services, and who is of great assistance to any patient or family member inquiring about available services. To contact the palliative care nurse navigator, please call: 709-777-7303 or toll free at 1-855-690-7303 .
Aboriginal patient navigator
Eastern Health's Aboriginal patient navigators assist Aboriginal patients throughout the province navigate the health-care system. For more information, or to contact an Aboriginal patient navigator, please call: 709-777-2199. or 709-777-2110