Being diagnosed with cancer can be a difficult time for you and your family.
How can an oncology social worker help?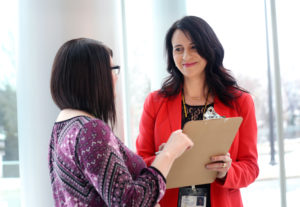 Social work counsellors work closely with your cancer care team and can help you and your family cope with the many changes brought about by a cancer diagnosis.
An oncology social worker understands how cancer can affect your well-being. Social workers provide counselling with individuals, couples, families and groups to increase positive coping strategies, help improve quality of life, find hope and reduce stress related to:
Adjustment to illness through diagnosis, treatment, survivorship, recurrence or bereavement;
Changes in lifestyle, family roles and relationships, and employment and financial status;
Relationships, sexual health and intimacy issues;
Financial needs related to travel, accommodations, medications, supplies and change in income;
Managing your care at home.  A social worker can link you with community services and resources.
End-of-life care and dealing with the loss of a loved one due to cancer.
How to contact an oncology social worker:
Patients can be referred by any member of the health-care team or you can make an appointment yourself by calling following numbers:
St. John's: (709) 777-7604
Corner Brook: (709) 637-5476
There are offices located in St. John's and Corner Brook, and services are available to patients throughout the province.
Social work counselling services can also be arranged through your local cancer patient navigator.