Chemotherapy unit – St. John's
The new chemotherapy unit, located at the Dr. H. Bliss Murphy Cancer Centre in St. John's, opened for patient care on Monday, June 26, 2023.
The state-of-the-art unit design is based on best practice, is patient-centered and provides benefits to staff and health-care providers. The new unit is over 10,000 square feet and has 32 treatment spaces.
Treatment spaces include chemotherapy treatment chairs and beds, a negative pressure room and isolation rooms for immunocompromised patients who require a separate space to receive care.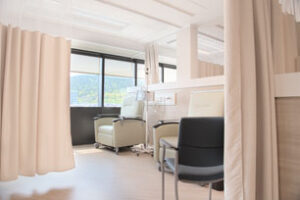 In addition to patients of the Cancer Care Program, the unit also accommodates outpatient hematology oncology services.
Pharmacy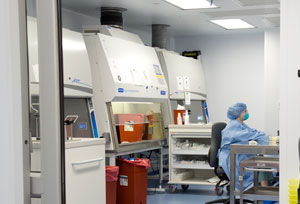 The satellite pharmacy, dedicated to preparing chemotherapy, has a state-of-the art cleanroom that meets national standards for the preparation of chemotherapy and other sterile hazardous medications.
The pharmacy program has a comprehensive quality assurance program in place that monitors and tests the cleanroom environment and assesses pharmacy personnel to ensure safety and sterility. In addition to the technical task of preparing chemotherapy for administration to patients, a comprehensive clinical assessment is conducted by pharmacists to ensure that treatment is safe and effective for each individual patient.
Along with preparing medications, a team of pharmacists and pharmacy technicians provide direct care to patients of the Cancer Care Program, providing education and answering questions about their treatment, assessing and managing any side effects of treatment, and helping patients access medications.
Additional Information
Patient and family advisors were engaged throughout the construction and design of the unit to provide valuable feedback and insight.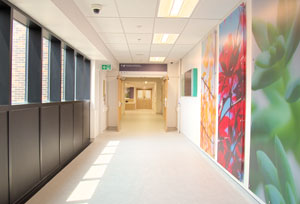 The comfortable and welcoming unit also features natural light, seating areas and a quiet room for patients and their family members.
Patients and their family members can access the suite through the main entrance of the Dr. H. Bliss Murphy Cancer Centre and will continue to register at the main entrance when arriving for their appointment.
Construction of this chemotherapy suite was made possible thanks to financial contributions from donors to the Cancer Care Foundation and the Government of Newfoundland and Labrador.